SI Winchester and District Member, Jenifer Titcombe: Volunteering for Tools for Self-Reliance, Netley Marsh.
Jenifer: I volunteer at Tools for Self-Reliance at Netley Marsh. They send refurbished tradesmen (& women)'s tools to partner NGOs in six African countries, along with funding. The NGOs provide training in use of the tools as well as book-keeping, health awareness, literacy & numeracy. Tools are donated by the public, collected by volunteers if necessary & refurbished by volunteers. I refurbish hand sewing machines.
Tools for Self Reliance was started in 1979 by a handful of dedicated volunteers. Disillusioned by their experiences of development projects in Africa and the failure of overseas development assistance at that time to trickle down to the grassroots, our founders took it upon themselves to work with small-scale community based groups and at the same time lobby major institutional donors and governments to adopt a more people-centered approach to development assistance. You can read more about Glyn Roberts, who led the efforts to establish the organisation.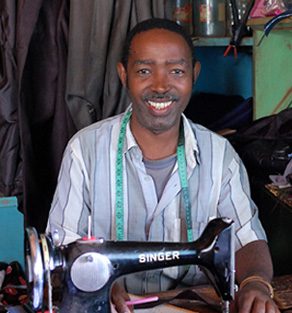 In 1980, Tools for Self Reliance was formally registered as a charity with the mandate of working with local organisations in developing countries to relieve poverty amongst the local population. It was envisioned as being a practical way to support tradespeople in some of the poorest parts of the world. Although raising awareness and campaigning are integral parts of what we do, we specialise in providing the vocational skills and business training rural tradespeople need to earn a livelihood, and equipping them with the tools they need to get started.
When we started, the tool collection and refurbishment process provided people in the UK with the opportunity to work together for the greater good. Today, there are hundreds of volunteers in Tools for Self Reliance groups all over the country, collecting and refurbishing tools, and there are scores of others collecting tools, raising money and publicising our work.
We work in partnership with local organisations in the six countries that are our areas of focus – Ghana, Malawi, Tanzania, Uganda, Sierra Leone and Zambia. We believe that these organisations are best placed to identify the local needs and to engage with the community. Our partners deliver training programmes which include not only technical trade skills, but also business and financial management, health awareness, and life skills. Upon completion, trainees receive a start up kit of tools, and are supported in forming their own businesses. This holistic training model is proven to support the development of sustainable livelihoods and income diversification for people affected by poverty.
Jenifer has produced a wish-list of donation items:
Haberdashery
Reels of coloured thread
Zips – all sizes & colours
Skeins of embroidery silks & tapestry wools
Crochet needles & yarn
Taylors' marking chalk
Buckles & buttons, sets threaded together, otherwise loose
Safety pins
Box or needle case of pins – always in short supply
Packets of sewing needles, machine & hand
Thimbles
Thread cutters
Balls & skeins of darning wool & knitting wool
Darning mushrooms
Knitting needles – pairs, 4's & circular
Knitting needle gauges, stitch holders, row counters
Velcro
Elastic – thread & flat
Press studs & hooks & eyes on cards
Tape measures
Bias binding
Pieces of lace and trim
Lengths of cloth – even small pieces can be used for patchwork.
Scissors
Machine attachments
Biscuit tins (square or rectangular) tin or plastic
Washed Chinese takeaway tubs with clear plastic lids (good for buttons)
Sewing machines, hand (any age), treadle, or electric (not modern computer ones) Woodwork tools, any, from small plane to electric lathe
Bicycle & motor-cycle repair kits
Metalwork tools, any & every (not nails/screws)
Blacksmiths tools, including anvils!
Electric meters & motors (not light-duty domestic ones)
Builders' tools – bricklaying, plastering etc