Inspirational Womens Award 2019
---
Jane Clarke wins our Regional award for Inspirational Woman of the Year at the regional meeting on March 2nd 2019. Congratulations Jane and SI Stourbridge. Thanks to all our very worthy candidates.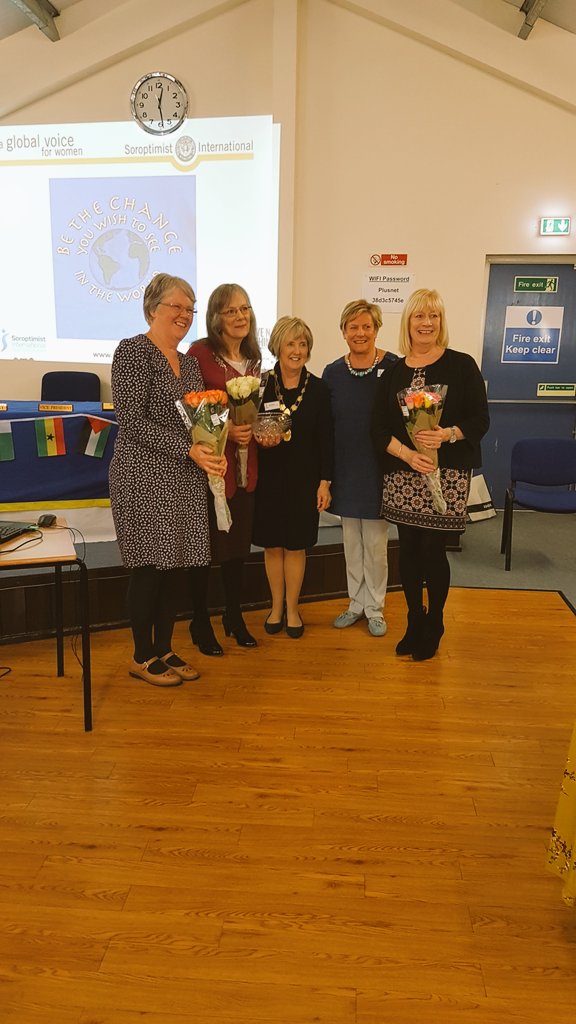 Midland Arden Region Inspirational Woman Award Winner 2019, Jane Clarke, presented with engraved rose bowl from Chair of judges Carol Bailey SI Wolverhampton Midland Chase and President Jan Hemlin Midland Arden.
President Jan Hemlin presented bouquets of Fairtrade roses to the three candidates present at the MAR Inspirational Woman Award.
President Jan Hemlin with Judges Margaret Aldroyd SI Nottingham Midland East Region, Sandra Tilley speaker from Mayor's Million Mentors and Carol Bailey SI Wolverhampton Midland Chase Region.
Soroptimist International of Midland Arden Region
                                     Inspirational Woman Award 2019
Dear Midland Arden Clubs,
We are looking for an 'Inspirational Woman' who reflects the principles of Soroptimism within her community or her working life/role, but is NOT yet a Soroptimist!  She may be working with you in a voluntary or statutory capacity, she may be involved in one of your projects; or even been one of your speakers.  Or she may be one of the many women that we come across who is selflessly working to support women and girls in your area.
We would like to offer the opportunity for each Club in the Region to nominate a candidate. Each Club may establish their own criteria for selection of their candidate and must gain the candidates acceptance of their nomination.
It is hoped that this award can be used to give maximum publicity to SI Midland Arden and your own club, and potentially generate interest in membership of Soroptimist International for your club.
Nominations should be sent to Past President Jan Bowden jan.bowden1@btinternet.com by the 8th of February 2016 together with the entrance fee of £5.00.
Nomination forms will also be sent to each Club President/Secretaries shortly.
Each candidate will be invited to the 2nd March 2019 Regional Meeting.  The nominating Club will be asked to give a short summary (5 minutes with a 1 minute warning) of why they have nominated their candidate.
The final judgement will be with a panel of independent judges, including a representative from another region; and the speaker for that day, who have already accepted our invitation to be on the judging panel.
The Award will be made on the day at the end of the meeting.
The Prize
An appropriate prize will be awarded which will include a trophy.
Each club will need to fund the lunch for their candidate and pay a £5.00 entrance fee.
Jan Hemlin
Regional President Midland Arden Region
SI Solihull & District
2019 Inspirational woman application form (1)
---